In Home Bass Lessons in Arlington
Bassists are responsible for creating a "partnership of rhythm" with the drummer, setting the groove of a song, and providing lower frequency harmonies to fill out the sound spectrum. In short, the role of a bass player is a vital one. We love introducing students to the bass guitar because helps them develop a unique appreciation for the creative process, encourages them to collaborate and "stay in their lane" to produce the best sound, and ultimately helps them become great musicians overall.
Ask any musician: When you're playing with any ensemble or band, there's a sort of 'magic' that happens. And as anyone who has listened to the radio knows, when the "bass drops" is usually when the song is at its peak. While the world has seen its fair share of incredible bass solos, the instrument's most consistent contribution to music is in a supporting role.
On stage, holding a bass guitar is an empowering feeling. You are creating a groove that other instruments can build on, and giving a song a quality that can be both heard and felt. The bass line can often set the tone for the entire song, adding a distinct emotion or character to the music. Executing it in the right way is a fun and incredibly rewarding experience.
For these reasons, we love to bring our bass students together with other musicians their age and show them this quality as soon as we can. For many musicians, their life-long passion was first sparked when playing in a group. Because of the influence bass has over other instruments, we've found that this is especially true for bass students.
By signing your child up for music lessons, you are introducing them to something that will give them real value not just now - but for the rest of their lives. Music is something that sticks with us forever and continues to inspire us even through our adult lives. Every band needs a great bass player, and while it may not be as flashy as the electric guitar or fronting a band, the instrument's powerful contribution to the group is its own reward.
We teach bass guitar to students of all ages right here in Arlington, VA. Armed with our unique and effective approach to teaching music and with a staff of the industry's most talented instructors, we're ready to provide you with an unforgettable experience today.
Bass Lessons in the Comfort of Your Own Home
Arts & Minds Academy has created a new kind of music school. Guided by our Four Pillars approach to music education, we aim to teach in a way that creates a genuine relationship between our students and their instruments -- a relationship that lasts a lifetime.
A core part of how we achieve that is by teaching in our student's homes. Quality music education can put a lot of strain on families with busy schedules and lots of responsibilities. By having our dedicated instructors do all the driving, and working around your schedule, we've removed one of the most significant barriers to beginning a journey with music.
And we don't just make it convenient; we guarantee a top-tier experience by giving interested students or their parents a risk-free trial lesson. We'll send one of our world-class bass teachers directly to your home. If your child has anything less than an awesome experience, you don't pay for it. We believe it's a simple way to give children who are interested in learning the bass a chance to dive in without locking their parents into a commitment right away.
In Home Bass Lessons for All Skill Levels
Our instructors are incredible bassists with accomplished careers in teaching the instrument as well as real gigging backgrounds. This allows them to accommodate the needs of all kinds of students, no matter where they are in their journey with music.
For students brand-new to music, they couldn't be jumping in at a better time. We go to great lengths to hire bass teachers with a genuine passion for the instrument. It's difficult to watch them play and teach without becoming inspired to learn more.
Many of our students come to us with considerable experience playing another instrument. It's natural to want to pick up the bass if you've been playing guitar or drums for awhile and want to learn something new. These students need a tailor-made approach to learning the bass because certain habits need to be broken, myths need to be dispelled, and they need to be taught in a way that leverages their experience without relying on it.
Our instructors are the perfect candidates for this task, as many of them learned to become bass players after they had years of experience with other instruments.
We aim to teach bass guitar in a way that simultaneously develops all the necessary fundamentals to become a talented musician and ensures the student is smiling the whole time. We accomplish this by focusing on the aspects of the instrument that the student actually enjoys, and introducing them to the music that they love to play.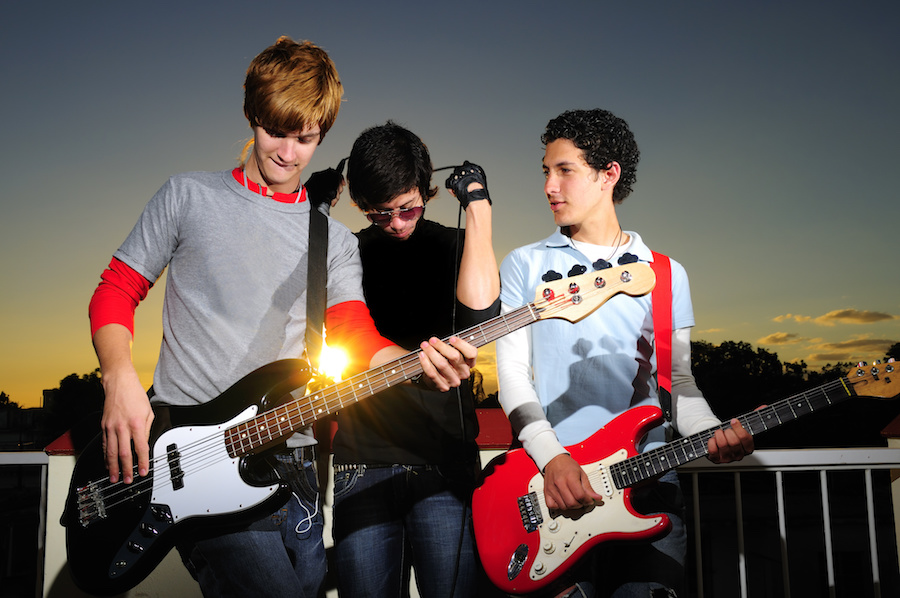 Another of our core philosophies is that music education should aim to develop the whole child. This means that while we teach critical bass skills like reading music, plucking, fretting, strumming, and more, we are also emphasizing essential life skills like communication, respect, patience, and - especially for bassists - teamwork.
Learning how to work well with others both on and off the stage is a critical skill every bassist needs to develop. Because other musicians rely on their bass player to drive the rhythm and harmony of a song, an aspiring bassist needs to appreciate and respect the needs of others, and be able to communicate with them to achieve a common goal.
It can be lonely down in the lower frequencies and bass players can be the butt of many jokes, but a bass player who stays in their lane and fulfills their role props up the rest of the band. Because of this, they command a great deal of respect among other musicians - even if they aren't willing to admit it.
Developing the ability to be a team player applies to many pursuits in life. We believe that by emphasizing these core values we can create not only talented musicians - but set them up for success no matter where their life takes them.
Ready to Begin Bass Lessons?
The best part is, you can get started today with no risk. If you don't feel like your child is getting a five-star music education and having a ton of fun while doing it, don't pay. It's really that simple.
We'll send one of our dedicated bass teachers directly to your home. If you are for any reason unconvinced that they are the right fit for your child, we'll just walk away no questions asked.