In Home Guitar Lessons in Arlington
"My guitar is not a thing. It is an extension of myself. It's who I am." - Joan Jett
Few instruments have influenced music as much as the guitar. When wielded with expertise, it has the power not only to inspire the musician - but entire generations of people.
Across cultures, generations, and styles, the guitar always emerges as a powerful way for people to express themselves. It's an instrument that has been wielded by philosophers, artists, revolutionaries, and cultural leaders. When you think about the guitar and its influence on our culture, several names come to mind: Jimi Hendrix, Eric Clapton, B.B. King.
For children, learning the guitar is a fun and rewarding experience that gives them both a long-lasting relationship with music and a tool that will shape their identity as they age.
We teach in-home guitar lessons to interested students right here in Arlington. Through our Four Pillars, we teach the instrument in a way that inspires the student's passion for music while developing critical life skills like confidence, teamwork, patience, and respect.
And you can get started today with no risk whatsoever. Don't enjoy your lesson? Don't pay. That's all there is to it.
A Unique Approach to Teaching Guitar
We haven't necessarily reinvented the wheel. We teach all the essential skills to create an excellent foundation for aspiring musicians. By teaching chords, scales, how to read sheet music and more, we are laying the same groundwork for top-tier music education.
But the difference we do make is an important one. Rather than change the proven, time-honored methods, we change our approach to make these fundamental skills fun, engaging and inspiring for the student.
What do we mean? First, we teach in our student's homes. This allows us to jump over all the hurdles involved with enrolling a child in music lessons. Parents don't have to drive, and our instructors will work around their busy schedule.
Then, we focus on the music the student actually wants to play. The guitar is a flexible instrument capable of playing pop, rock, jazz, blues, classical, and many other types of music. Across each of these styles are the same fundamentals. There's no reason a student can't apply their education to play music that genuinely inspires them.
This prevents the inevitable drudgery and burnout that a student will encounter if their lessons aren't something they truly look forward to. Creating music is not an obligation, it's a passion!
Next, we focus on bringing them together with other young musicians. The benefits of playing in a group are immense. For many musicians, their true passion for the art was ignited once they experienced the magic of playing music together with other musicians!
Last, we teach in a way that aims to develop the whole child. There's so much more to playing the guitar than making music. Every accomplished musician needs a mastery of not only their instrument, but critical life skills like collaborating with others, focusing on the details, and working diligently toward a goal. Even if they were to stop playing someday, these skills would benefit them for a lifetime.
We've addressed all the most common barriers, and focused on enhancing the things that students love about music. The overall goal is to ignite genuine passion and give our students something that they can enjoy for the rest of their life.
Guitar Teachers That Make a Real Difference
Our approach gets results because we have a rock-star team of instructors who share our vision for music education. We take painstaking efforts to seek out teachers who are not only qualified for the position, but also have the unique attitude and outlook that we bring to our customers.
By making great effort to add only the best of the best to our team, we can guarantee that our customers get nothing less than a five-star experience.
We conduct a thorough background check that checks over 22 criminal databases and offender registries in all fifty states. Safety is our number one priority. We know it takes a lot of trust to invite someone into your home. Our thorough recruiting process ensures that our instructors are deserving of our clients' trust.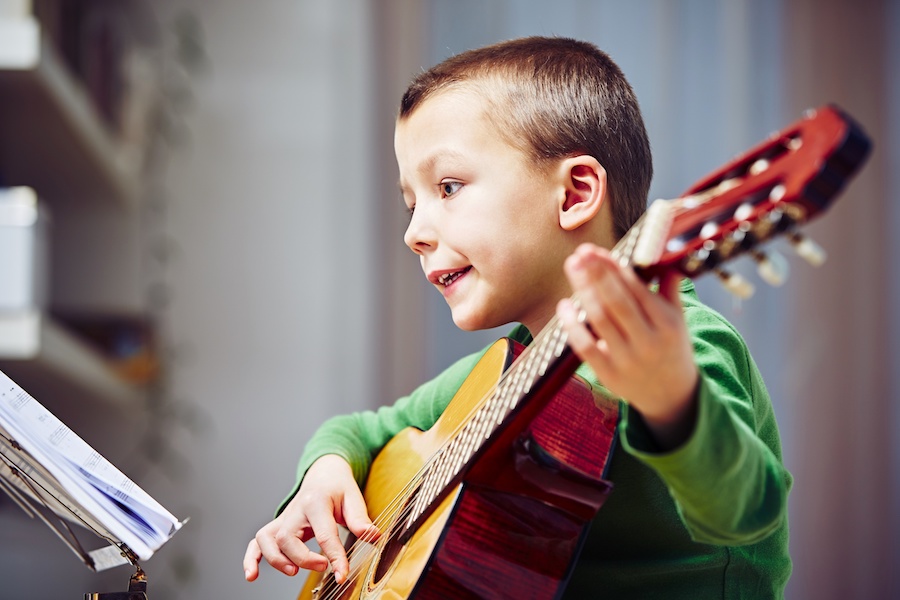 All Ages & Skill Levels Welcome
The beauty of our program is it can add value to anybody interested in the guitar. Whether you or your child have been playing for years or just purchased your first guitar, we can quickly assess your needs and fit you into our curriculum.
From the basics like posture, simple chords, and how to handle your guitar properly, to more advanced techniques like advanced strumming, palm-muting and pentatonic scales, our instructors can get you laser-focused on what you need to progress with your instrument.
Many students come to us that have been playing a while and have hit a "plateau" in their progression. Often something is holding them back that they can't identify themselves. Our instructors can simply watch students play, identify areas for improvement, and get them back on track to mastering the instrument.
Every student, no matter where they are in their progression, has unique needs. The key to effective and engaging instruction is identifying those needs and addressing them in a way that is fun rather than draining.
Ready to Get Started?
We want to help your child begin their journey with music. With our incredibly convenient program and emphasis on making lessons fun, we've removed all the most common barriers to a quality education.
If you want to get started today, just click the button below. We'll send one of our awesome instructors directly to your home to get started right away. And the best part is: if you or your child doesn't absolutely love the lesson, you won't pay us a thing.